VIRTUS MobileDetect
"Test the substance or the environment and not the person."
Presumptive substance testing has been used by law enforcement and security agencies for many years. Our hope is to provide this service to the general public in the Springfield, Mo area who suspect or fear someone close to them may have a drug problem. This service has now been made available for individuals in homes, schools or work environments. If you find a foreign or suspicious substance we can perform a presumptive field test to determine if the substance is a drug. We can test substances in various forms. Testing can be performed on powders, pills or residue. If you suspect drug use we can test items the suspected user has been in contact with for trace amounts invisible to the naked eye. VIRTUS can test a substance to determine if it is an illegal drug without involving law enforcement or an outside agency. What this means for you, is the results are private and confidential. This allows you to address the problem as you see fit.
VIRTUS utilizes DETECTACHEM presumptive field testing products. DETECTACHEM was founded in 2005 and is located in Houston, TX. All products are made in the USA. DETECTACHEM products use U.S. DoD Sole Sourced Company A patented, Department of Defense-derived technology that converts smart devices into trace drug detection tools. DETECTACHEM MobileDetect uses test pouch consumables that can be further utilized with a proprietary smart device application for automated wireless reporting. This technology takes human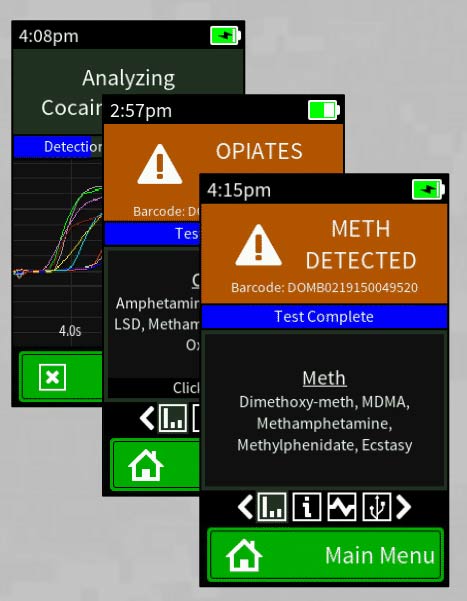 interpretation out of the equation.
VIRTUS can check things for trace amounts of illegal drugs:
Cell phones, keyboards, desktops
Tools, utensils, kitchen items, glasses, counter tops etc.
Keyboards
Automobile drug interdiction and random inspections, swabbing hidden compartments, non-visible residue on steering wheels, etc., non-visible residue detection
Personal items
Homes and businesses
RV, travel trailers, recreational vehicles of all types
Interdiction in mail room facilities, swabbing outside of packages for detection of fentanyl/other illegal drugs
Drug Detection / Identification
"Test the substance or the environment and not the person."
Drug use is a destructive and life-threatening habit that affects the emotional and physical well-being of the user, their family and friends. Perhaps you worry that your child uses drugs and are concerned you won't know how to detect the drug use. Maybe you think your spouse or significant other might be involved in drug use. Even at work, you might suspect an employee or coworker is using drugs. Regardless of whom the person is and what his or her relationship is to you, it's important to understand how to detect drug use, so you can get help for your child, loved one or business associate.
Substance tests are popular with parents, schools, clubs, landlords and workplaces that may suspect drug activity in a physical location.
VIRTUS brings presumptive drug field testing to schools, businesses, parents, spouses, coworkers and loved ones. These next generation field drug tests were designed to allow for trace and bulk detection by using the integrated swab and proven colorimetric reagents. VIRTUS MobileDetect is a cost effective and powerful tool for presumptive drug detection. The VIRTUS MobileDetect brings automated presumptive drug detection to the masses. VIRTUS performs automated detection by capturing a picture of the VIRTUS MobileDetect. It analyzes the reaction that has taken place on the testing swab. It balances the image and adjusts for variations in situational lighting to make a more confident determination that removes variance in interpretation eliminating human interpretation.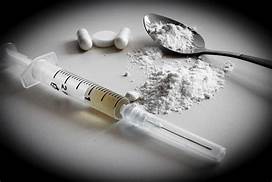 Presumptive drug detection/testing can be performed on any surface or item that's potentially been in contact with an illegal drug. If a person has handled or has come in contact with the illegal drug, the residue is on their hands or fingers and is transferred to the objects they touch. If the tested surface is positive for the drug, it does not mean the person used the drug, but that they did encounter the drug. VIRTUS drug detection technology tests surfaces that may contain drug residue caused by someone or something that has been contaminated by touching or being touched by illicit drugs.
Substance tests are popular with:
Parents can test a teen's phone, backpack, computer, clothing or car steering wheel if they suspect their teen is using or dealing drugs. The only type of drug testing you can do without their knowledge.
Schools can test lockers, desktops, keyboards, furnishings, back packs and phones if they suspect a student is using or dealing drugs.
Test the school and not the student. Test areas where students congregate by swiping the doorknobs, light switches, handles or other surface areas to see if drugs are being used there. If drug activity is detected, you can closely monitor the area and post signs that it is being tested for drugs.
Rental Property landlords, boarding houses or storage unit owners who are worried someone is using or dealing drugs on their rental property can test doorknobs or other surfaces.
Workplaces who worried or suspicious of a co-worker or employee can test their desk, phone or keyboard to see if they have been in contact with illegal substances.
Property – do you suspect an apartment or home has been used as a meth lab or some type of drug making lab? You can test surfaces such as handles, counter-tops, curtain pulleys, window locks etc. If drugs were manufactured in a home the drug residue builds up strongly next to or above where the drug was cooked, like vents or fans in the kitchen or bathroom.
Vehicles
Not sure what that powder is?
Wondering, what was in the bag you found?
Do you think it could be a drug?
Attorneys, family court services, Guardian Ad Litem's, child abuse and custody cases
Our presumptive drug detection testing allows you to determine whether a substance is ecstasy, marijuana, cocaine/crack, heroin or many other additional substances. These tests are private, are a minimal disruption and the results are only provided to you. VIRTUS can test a substance that you find, paraphernalia or any flat surface that was touched by the drug or the person who handled the drug.
VIRTUS can detect the presence of trace amounts of drug residues left on surfaces, such as doorknobs, counter tops, light switches, steering wheels and phones etc. In other words, you can drug test the place and not the person. If a place tests positive, it does not necessarily mean the person used the drug, but they did come in contact with it.
Presumptive substance tests are based on the same science that is used by law enforcement. Within minutes we will have results in the privacy of your own home, school or workplace without involving or notifying any outside agency or law enforcement.
VIRTUS can detect and identify the following substances at your location.
Marijuana, Heroin, Amphetamine, Methamphetamine, PCP, Morphine, Methadone, Codeine, Ketamine, Ephedrine and Pseudoephedrine
Coca (Cocaine/Crack)
BZO (Diazepam and Rohynpol)
Barbitusol (Barbiturates)
Cannabis
Herosol (Heroin and other drugs)
Ephedrine
LSD
Meth/X (Methamphetamine and Ecstasy)
Opiates (Codeine, Morphine, Opium)
DMU Mushrooms
THC component of marijuana, BHO, hashish, hash oil, and vaping products with great sensitivity
Synthetic Drugs including BZP and Synthetic Cannabinoids. Synthetic Cannabinoids are human-made chemicals that are sprayed on dried, plant like materials and are often called synthetic marijuana or fake weed.
Special Opiates, bulk amounts of modified opiates and other substances such as buprenorphine (Suboxone)
GSR Gunshot residue
Is the home you are purchasing previously been a meth lab?
What is a meth lab?
Meth can be manufactured in a clandestine drug lab (meth lab) in a variety of indoor and outdoor locations, including houses, apartment buildings, motels, vehicles, wooded areas or fields. Meth is manufactured (or "cooked") by applying common, readily available materials to one of several basic recipes.
Meth "recipes" can be easily obtained through the Internet or by associating with other users. There are hundreds of chemical products and substances that are used interchangeably to produce meth. The substitution of one chemical for another in meth recipes may cause the process to be more hazardous (resulting in fire or explosion) or may result in a tainted, final product with unwanted or dangerous effects.
Suspect a Meth Lab?
Many dangerous chemical ingredients are used to make meth. The cooking process causes chemical residues and meth to be deposited on surfaces and household belongings. Also, chemical by-products such as toxic phosphine gas may be formed during meth manufacturing. This may occur through planned chemical interaction or by processing errors, such as increasing cooking temperatures too rapidly.
Every meth "recipe" starts with over-the-counter medications that include pseudoephedrine or ephedrine in their contents. The pills are crushed and mixed with other chemicals in the process of cooking meth. Various meth recipes include combinations of volatile organic compounds (VOCs), acids, bases, metals, solvents and salts. Making meth with these chemicals can result in explosions, chemical fires and the release of toxic gases. Meth cooking also produces solid and liquid wastes that can contaminate a building and its contents or the groundwater or soil where they are dumped.
What are the potential health effects from exposure to a meth lab?
Health effects caused by exposure to meth lab chemicals depend on: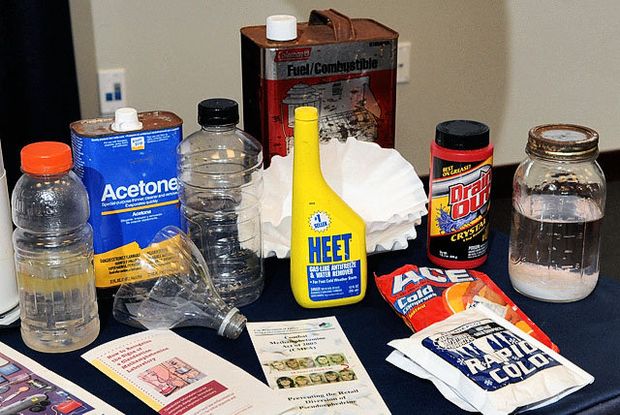 The lab process and chemicals used;
The amount of chemical and length of exposure; and
The age and health of the person exposed. Chemicals may enter the body by being breathed, eaten or absorbed through the skin.
An acute exposure is one that occurs over a relatively short period of time. Acute exposure to meth lab chemicals can cause shortness of breath, cough, chest pain, dizziness, lack of coordination, chemical irritation or burns to skin, eyes, nose and mouth along with pregnancy issues, miscarriages and birth defects. Death could result when exposure is to a particularly toxic chemical or if the person exposed is particularly vulnerable. Acute exposures can occur in non-drug users during or immediately after "cooking."
Less severe exposures can result in symptoms such as headache, nausea, dizziness and fatigue or lethargy. These symptoms have been known to occur in people exposed to prior active labs, but also in people particularly law enforcement personnel and other first-responders who have entered a drug lab before the site has been cleaned or ventilated. These less-severe symptoms usually go away after several hours of exposure to fresh air.
Exposures to lab chemicals or byproducts over a long period of time called chronic exposures may cause both long-term and short-term health effects. Long-term exposures to VOCs may result in liver and kidney damage, neurological problems and increased risk of cancer. Even at low levels, exposures for long periods by people living in a former lab site could result in serious health effects.
We hear about people becoming ill from living in contaminated houses. We have received many calls from people who believe they are sick from living in a place contaminated by meth residue. Typical symptoms are respiratory problems, rashes, headaches, irritability, trouble sleeping, fatigue and loss of appetite.
We hear a lot about people being caught making meth in cars. Working meth labs have been blamed for car crashes. A man in Tennessee was found passed out at a gas pump while making meth in the back seat. Meth labs have been found in cars all over the country.
People who smoke meth are likely to do so in their cars. Smoking meth leaves a residue that can affect people and pets in buildings. In a place as contained as a car it would seem like residue would deposit in greater quantities. Residue could be present in the ventilation system as well as on seats, head liners and other surfaces. It would likely be present in places where a person may touch after handling meth. We don't hear a lot about cars contaminated with meth that are resold. After testing cars in a used car lot in Missouri, 20 were found to be contaminated with meth. The owner stated, "What's happening here may be typical of what would happen on any car lot, if they came under this kind of scrutiny, which just raises some interesting questions about used cars."
Most home meth manufacturers make small batches of the drug for their own use. It's common to find meth labs in cars. All of these cars are not busted, re-mediated or destroyed. Cleaning meth contaminated vehicles is difficult and expensive. To clean the toxic chemicals related to a meth lab from a car, it must be stripped to the frame. Meth can destroy a car.
Meth is oil-based, clings to and penetrates surfaces when cooked or smoked in a vehicle. Fumes penetrate and contaminate upholstery, carpets and headliners. To clean a vehicle, it is stripped it of its seats, side panels, roof panels and carpets. All porous materials are removed. The interior is scrubbed, hosed down and then dried.
Everything that has been removed should be replaced with uncontaminated materials. The cost can be $3-5,000 not including replacement seats, side panels, head liners, carpeting and all other porous parts.
VIRTUS can test a car or tuck before you buy. Samples are taken by rubbing a special collection paper on various spots inside the car. A reagent is dropped onto the paper for instant results. If the reagent changes to a specific color it is a positive test.
VIRTUS takes your privacy seriously and is committed to safeguarding your most private and personal information.
As a private agency, we provide service to your locations without the challenges faced when law enforcement officers are present or involved. At each location/site, a designated coordinator or client will escort the teams and observe the inspection activities.
VIRTUS will not physically search, take possession of or dispose of any substance. The results of a search will remain confidential. NO law enforcement agency will be contacted by VIRTUS. VIRTUS representatives can at their sole discretion collect, inventory and seal any evidence. VIRTUS will sign the evidence over to the individual or company. Further action is the responsibility of the company. VIRTUS will NOT contact law enforcement or any outside governmental agency. Law enforcement notification and involvement will be left solely to the client's discretion.
In closing, we want to stress that we take confidentiality very seriously. Before we take on any project, we make sure that we know who is on a "need to know" basis. Anyone not on the short list of "who needs to know" will not be privileged to any information. We can assure any potential client that our guarantee for confidentiality will never be compromised.
All tests are presumptive. Final analysis should be preformed in a lab by qualified personnel.
VIRTUS, it's employees, agents and sub-contractors have been thoroughly vetted. All undergo stringent background investigations and are under contract with a very extensive non disclosure "NDA" agreement.
Today's threats and behaviors have called for an evolution in how we protect ourselves and loved ones. Situational awareness is now part of our everyday life. There are no second chances to get it right. Initial consultations are always free, please contact us with any questions or requests